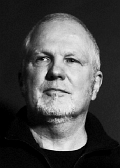 Follow Your Heart - An Introduction to Neuro Linguistic Programming
Wednesday, 22.04.2015, 20-21.15 o'clock
with Ray Wilkins

Achtung: Das Online-Seminar findet in englischer Sprache statt (ohne Übersetzung)!
The Vision
A chance to learn about the basics of one of the most powerfull communication/self-growth tools on the market - NLP.
A model that is used today not only by therapists and communication trainers but also by teachers, therapists, business people, artists etc.
Who is it for?
For anybody interested in intensifying their level of communication resulting in more success in life, business and relationships.
What will you experience?
A short introduction into the history and the basic models and belief systems of NLP. Including some simple communication techniques - that work. Explanation about how our subconsciousness works and how to make a change in life by simply changing the way we think.
Who is Ray Wilkins?
Ray Wilkins is an Australian therapist and NLP trainer with over 30 years of experience.
He has developed his own style of NLP where he believes that expressing feelings and emotions is the key to changing negative belief patterns and making your life WORK. He is also a successful visual artist, author and songwriter. He runs the People and Art Factory a center for NLP, psychotherapy, coaching and art in Germany together with his partner Cordula Ehms. Ray has worked in Belgium, Switzerland, Germany, India, Australia and England.
Instructions for logging into a online-seminar
Start by clicking on the button "Anmeldung" at bottom of this page or of the online-seminar of your choice. Then you will reach the information page of the chosen online-seminar (some online-seminars are still being filled with content continuously). Please select the online-seminar by pressing the button "Jetzt Voranmelden". Now a short form with your data must be completed. Simply fill in your company name (optional), first name, last name and your email address and then click on "Weiter" to proceed. On the top of the page you will now see a confirmation that an email was sent to your account. In this email you'll find the direct link to the virtual classroom, in which the respective online-seminar will take place. Please use this link to enter the online-seminar shortly before the specified time.